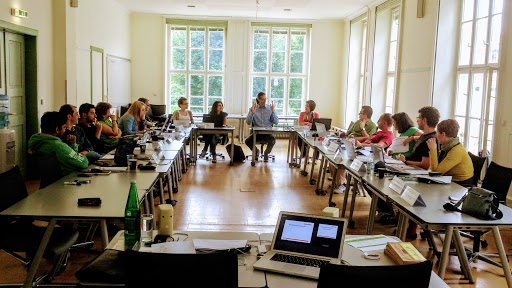 European personalities in ECI Courses
Αυτή η ανάρτηση είναι επίσης διαθέσιμη σε:

Ελληνικά (Greek)
Following the recent 'Institutions Communication & European Integration' courses, where, in early March 2021, -among others- we were fortunate enough to have Commissioner Margaritis Schinas greet the ECI Community, another intensive period of the ICEI Master of Arts came to completion.
In addition to the structured participation of the teacher and MEP mag. Anna Michelle Asimakopoulou, we had the honor of the following face-to-face contributions:
Address by the

First Vice-President of the European Parliament Roberta Metsola

,

Presentation by

MEP and publisher Giorgos Kyrtsos

, on the subject of the European Budget procedure and the role of the MEPs.

Presentation by the

Head of the External Relations Unit of the European Parliament Research Service (EPRS) Ms Elena Lazarou,

in relation to the EPRS, and her role in the Work of the European Parliament / MEPs.
During the same module, mag. Spyros Kapralos' course started, with the participation of Distinguished Guest, Secretary General of the Ministry of Foreign Affairs Yiannis Smyrlis, head of International Economic Relations and Extroversion.
Saturday concluded with the excellent in composition lecture by Dr. George Archontas, that systematizes our knowledge on the European Institutions. Mr. Archontas is the most recent "aquisition" of the Institute and, judging by the informal feedback of the students, his Course transcends Academicity, being fundamental knowledge to the literate European Citizen.
The Institute also announces the rave feedbackthat Dr. Cambouraki's course received on Sunday morning. Not surprisingly, given the originality of the material, that makes the interdisciplinarity and erudition of the Teacher a "cohesive tissue" between social sciences and technology-nature sciences, in harmony with the statutory axes of ECI.
Last, but not least, we recall the latest publication by ECI Academic Director Dr. Charalambos -Babis- Tsekeris.
He delivered the demanding Sunday afternoon period In his usual, robust academic style.
The instructor strongly recommended "The Age of Surveillance Capitalism" by Harvard's social psychology Prof. Sosana Zubov.
The intensive Module 02 lasted more than 56 hours of online attendance for ECI students, in the course of 17 calendar days.