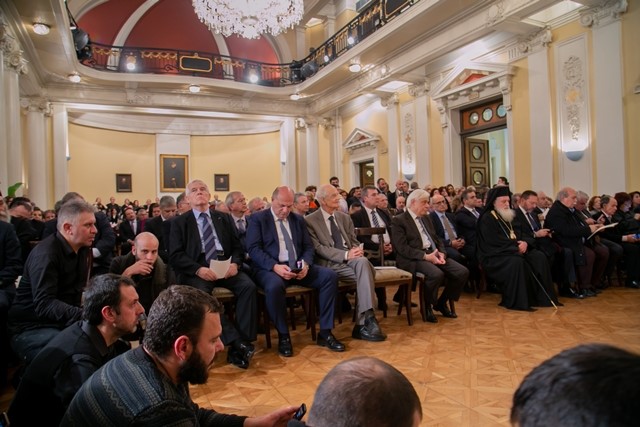 "Giorgos Karagiannis" Award for Journalism and Technology
Αυτή η ανάρτηση είναι επίσης διαθέσιμη σε:

Ελληνικά (Greek)
With the "Giorgos Karagiannis" Award for Journalism and Technology, ECI annually honors our fellow citizens – distinguished Communicators and Institutions. The criterion for the award is their impact on journalism issues, with the use of New Technologies.
The institution was created in honor of the late professor of ΕΜΠ, and founding member of the institute's administrator, the late George Karagiannis.
The award is traditionally offered in the presence of the President of the Republic, in the context of the Botsis Awards. The A. V. Botsis Public Benefit Foundation for the Promotion of Journalism is a statutory part of the ECI – European Communication Institute.
This year's 37th A.B. Botsis Awards Ceremony will take place on Thursday, May 26, at the Zappeion Megaron, in the presence of the President of the Republic, Mrs. Katerina Sakellaropoulou. The Award will be presented on behalf of the European Institute of Communication, the Regional Governor of Attica and ex President of the Panhellenic Medical Association, Dr. George Patoulis.
The Special Prize for Journalism and Technology "Giorgos Karagiannis" is awarded to the Academic Research Laboratories of Informatics Applications in the Media, of the Department of Journalism and Mass Media Studies of the Aristotle University of Thessaloniki (Electronic Media of Peace Journalism – Social Media – Cultural and Visual Studies – Digital Marketing and Strategic Communication), for promoting new technologies and focusing them in the new media and in science journalism.
In the past, the award has been awarded to Ms. Gely Vourvouli (for the implementation of the Online "Kathimerini"), to Mr. Vassilis Bitsis (as the first director and architect of the Hellenic Euronews), to the Infographers, journalists Panos Konstantopoulos and Zoe Katsigianni and others.
In the last, pre-pandemic ceremony , the Rector of the National Technical University of Athens Dr. Andreas Boudouvishanded the award to the president of iMEDd (Stavros Niarchos Foundation) Mrs. Anna Kynthia Bousdoukou, for its contribution and the collaboration with the Columbia School of Journalism.
The European Communication Institute (ECI)is a synergy of European public entities active in research, higher education and language technologies. It offers postgraduate studies in Communication and Technology in Greece and Austria, as part of his initiatives for a better Citizens' Europe.