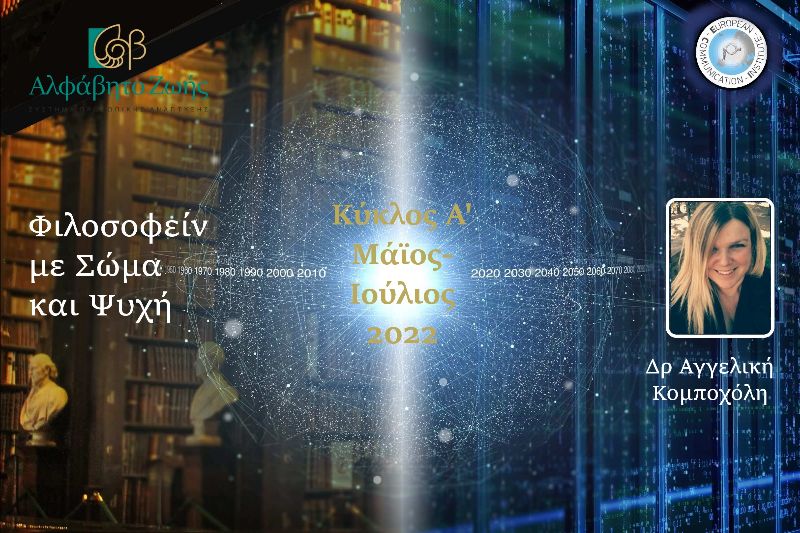 "Philosophy with body and soul", under the auspices of ECI
Αυτή η ανάρτηση είναι επίσης διαθέσιμη σε:

Ελληνικά (Greek)
The first cycle of"Greek Philosophical Reflection", organized by the Alphabet of Life and under the auspices of the European Institute of Communication, continues successfully.
Speaker of the webinars, with the general title "Philosophy with Body and Soul", which began in May 2022 and will be completed in July, is Dr. Angeliki Komboholi, philologist and folklorist, lecturer in ECI's postgraduate program "Humanistic Communication and New Technologies" (HCNT).
The webinars deal with the following sections:
"Imarmeni": The cycle of error and mechanistic repetition. Catharsis and change.
"Flow": The perpetual cycles of life and the idea of "good life".
"Randomness and Free Will": Consider what precedes, what follows, and then act.
"Cause and effect": Your will is you.
"Easy judgment, devilishness, slander": The search for wisdom draws critics.
"Self-fulfilling prophecy": Visualization, action, achievement. The higher ideals.
The Greek Philosophical Reflection influenced the entire western civilization. The discovery of the active scientific and philosophical spirit is an offering of the ancient Greeks to the world. Greek philosophy was characterized as "a path to the highest human elevation" by great thinkers and philosophers in the years that followed.
It is the philosophy – lighthouse of the world and continues to awaken it. It calls on people to obey the eternal law of change and evolve. To realize their existence, to enjoy the miracle of their earthly course and to reject the fear of death.
This is why the Greek Philosophical Reflection is considered "life's antidote to the fear of death".