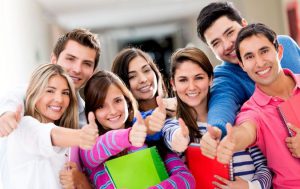 Attendance
ECI's PGPs (Postgraduate Programmes) are part-time, designed to allow for parallel work. In most cases, if our students are not already employed, they get offers by affiliated bodies during their studies. Although more than 500 hours of mandatory attendance are required (in addition to individual and group assignments), this is achieved with three days per month attendance, from Friday to Sunday, 9:30 to 17:30. The periods in Vienna last a full week (each). The program lasts two full years with breaks during the months of July and August.
Candidates
ECI's PGPs (Postgraduate Programs) are addressed to bilingual (Greek – English) graduates of Greek Universities, A.T.E.I. and foreign Universities. Also, to executives who have broader professional experience from the field of Communication / Technology / tangential fields, with a career or academic interest in the fields of Journalism, Content, Professional or Humanistic Communication, European Studies, Psychology & New Media and New Technologies.
Tuition fees
The cost of studies amounts to 9150 euros
The amount is usually paid in advance, but can be paid in installments, upon timely request
Pandemic Update (2021-22)
Upon request (you may be asked for supporting information), there are Special Conditions for reduced tuition fees. You can apply for reduced tuition fees, based on financial criteria. Supporting data such as E1 or Tax Clearance certificate will be requested.
Other Pandemic aids without documentation of financial data
A number of preferential tuition fees repayment terms will be awarded on the basis of excellence:
On this basis, the payment terms are as follows:
Exemption from the first instalment of EUR 2000
Upon acceptance of the student, payment of the Registration Fee (450€) only
18 installments for repayment
First installment at the start of the PGP
Work Your Master (WYM)
The European Communication Institute (ECI) gives postgraduate students the opportunity to cover their tuition via the "Work Your Master" initiative, which includes an Internship assignment to a partner Communication Group, on a subject related to the candidate's studies. The duration of the exercise is 2 semesters, divided into the time of study.
The profits for students and institutions/businesses are multiple. The sponsored students obtain the title of Master of Arts, while proving their skills and knowledge to potential employers, having created invaluable networks. At the same time, businesses ensure high quality services, both in the field of information and corporate communication, reaping financial and other benefits associated with university support. The "Work Your Master" initiative helps to raise the profile of unemployment among both young people and journalists, i.e. the two groups that have suffered the consequences of the crisis more than any other.
Scholarships
Under certain conditions and with the relevant documentation of financial weakness, you can apply to be included in the nominations of the scholarships available from time to time.
You must meet specific criteria that you will be asked for (E1 and/or other supporting public documents). Usually these scholarships (or grants) reach up to 50% of the cost of study and applications must be submitted at least 5 months before the start of the course.
Due to the big interest in financial support:
We request candidates to exercise discrimination and empathy, as a potenitally misguided request can deprive the aid of someone who really needs it

In case of self-financing, the application evaluation process is shorter and the chances of acceptance higher, as the process unfolds earlier and while there are still places available
Admission Requirements and Applications
The application process is sequential.
To be included in the candidates, you must send your CV (phase 1).
In case your CV meets the requested candidate profile, you will be sent forms and further instructions.
Selection Process
Phase 01


Candidates of the upcoming academic period must:
Phase 02

If they are

pre-selected, they are sent the official candidate package

(application, etc.).

Phase 03

Successful phase 02 nominees are invited for an interview.

Phase 04

Successful phase 03 applications provide the rest of the documentation – support for their candidacy (letters of recommendation & official documents)

We would like to point out that documentation of the university degree may be requested with the Hague Apostil.
Fill out the Candidate Form.